CELTA course assignments are a mystery for many people. Everyone who applies for a CELTA course has heard about them, but not many know what to expect.
In fact, I see many people online posting for help with them as they feel there is not enough time to do them properly and they are often confused by the instructions.
For this reason, I wanted to go through the basics of the CELTA course assignments and explain what you can expect. However, I should tell you early on: every CELTA course centre has slightly different assignments.
Yes, they follow the Cambridge CELTA standards but CELTA centres use their own specific requirements. This depends on what they feel is the best way for you to show what you have learnt on the CELTA course.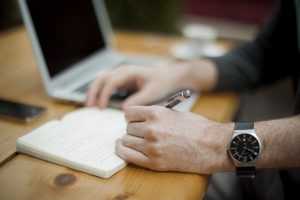 CELTA Course Assignments: What are they?
There are 4 CELTA course assignments, which are as follows:
Assignment 1: Focus on the learner
Assignment 2: Language related tasks
Assignment 3: Language skills related task
Assignment 4: Lessons from the classroom
As mentioned above, these are different for each CELTA centre so it is hard to go into too much detail here. Instead, I will give you a brief overview and some links to examples of these CELTA course assignments, available for free online (but don't pay for any!).
A word of warning: online examples are not guaranteed to be of high quality. They are simple tasks past CELTA trainees have uploaded to various websites.
You might also find that the assignment you are given is very different to any of the sample CELTA course assignments linked to below. With that in mind, it's important to think about these assignments in terms of broad concepts, rather than specific points.
---
CELTA Course Assignment 1: Focus on the Learner
In general, this CELTA assignment asks you to comment on one student, or learner, from the group you are teaching. The assignment is essentially a needs analysis for that student.
For this assignment, you have to focus on their background, and strengths and weaknesses in learning English. You should also give suggestions for them to improve. To get a good grade on this assignment, you will also need to refer to some CELTA books (in brief) about teaching English.
Much of your assignment will also be based on an interview you do with a particular student. Remember to organise the interview early on in your CELTA course! And no, it won't be anything like the CELTA course pre-interview task!
The word count for this assignment could be something like the following:
Learner Background: 300-350 words
Analysis of the student's language problems: 300-350 words
Suggested activities for them improve their English: 300-350 words
What you write under each section will be based on your interview with them and what you have seen them do in class. Keep a close eye on them to help you here!
Hopefully you can now see clearly why this assignment is called 'focus on the learner'!
For a more detailed look, check this article I wrote dedicated specifically to the Focus on the Learner Assignment
Or check out the CELTA Survival Guide Ebook by CELTA Helper
---
CELTA Course Assignment 2: Language Related Tasks
For the second assignment on your course, you will need to focus on language skills and awareness.
Many people get really worried about this assignment, but you don't need to! This is where you need to remember that the CELTA course is for people with little or no experience.
For the above, your tutors will not expect you to have a very high level knowledge of English. Just remember to follow the assignment instructions and do your best!
If you take good notes during the 'input sessions' on your CELTA course, these will be particularly helpful here (make sure you are taking notes you can read and understand afterwards!)
Regarding specific tasks, you will be given examples of language to work with and you will need to cover specific aspects of these.
You will likely have to explain, with examples, the following for each piece of vocabulary you are given:
Meaning
Conveying meaning
Checking understanding
Pronunciation
Form (or sometimes called 'part of speech')
 Anticipated problems & solutions
Remember, it is for you to show what you have learnt up to this point. With this in mind, you should be able to find help or a guide in your notes from the input sessions you have already had.
You should also write your own example sentences – don't be tempted to use the ones from the dictionary!
Another section of this assignment will be dedicated to grammar. 
Much of what you need to do in this section will be similar to the vocabulary section. You might need more background here, so I would suggest you do some reading before starting the course.
Reading relevant books will help you to save time later on and build your confidence throughout the course.
Some good books to help you here will be:
For a much more in-depth look at this, be sure to check out my dedicated article for CELTA assignment 2 here (with worked examples!)
---
CELTA Course Assignment 3: Language Skills Related Tasks
These tasks will be based on an authentic piece of English language. You should have quite a bit of flexibility here to chose this, for example you could use many different types of sources such as articles, songs, videos, and so on.
With that authentic piece of language, you can then think about what you want the students to learn and make the tasks around this. You will need to explain why you have chosen this task, but this will be quite brief.
You need to do some reading for this task as it asks you to explain how to teach different skills in English.
Think about the skills as follows:
Receptive skills: reading and listening
Productive skills: writing and speaking
To apply what you have read, you will likely need to create possible exercises, or tasks, for each of these skills.
For every task you make for the skills above, you will need to give your reasoning, or rationale, for including this task in your lesson.
For example, you could possibly the students to read to get the general idea of the text (reading for gist), as your first reading task. Then, follow this with comprehension questions on the text they have read. It doesn't have to all be about incredible tasks here, simple ones work well, too.
There are many different ways to approach this, but try to keep your aims and objectives clear in your mind at all times. If you do this, you will be fine!
---
CELTA Course Assignment 4: Lessons from the Classroom
As this assignment comes at the end of the course, it is mostly reflecting on what you have done.
You need to follow the instructions carefully (again!) to get a good grade. You will also need to think about things like your observations of the trainers, your peers and your own observed lessons.
This time, you will need to write about your own strengths and weaknesses. There will also be room for you to write about your development as a teacher.
Other points which might be included in assignment 4 are things like classroom management and lesson planning, among others!
It really does cover a wide range of topics, so look at what your CELTA centre wants you to do. Then all you have to do is follow what they ask for!
It might help to keep some sort of diary throughout the CELTA course to write assignment 4. It would certainly save you any time in thinking about what to write later on.
Imagine how you will feel at the end of the course; your brain might be ready to shut down!
Hence, diary notes could save you some mental energy here, with templates for this and much more included in the CELTA Student Notebook and Diary that I have made and put on Amazon – check it out now for more!
Remember to also check out my dedicated post on the Lessons from the Classroom Assignment here for an in-depth guide to everything you need!
Below is also a very detailed Slideshare presentation by Jo Gakonga of ELT Planning, an experienced EFL teacher and teacher trainer who has a fantastic website. It explains the main elements of the 'lessons from the classroom' assignment in detail.
---
Useful Links
Focus on the Learner – Assignment 1
One example of the 'Focus on the Learner' assignment can be found on Scribd.com here
---
CELTA Course Assignment 2: Language Related Task
An example of the Language Related Task CELTA course assignment can be found here on scribd.com.
---
CELTA Course Assignment 3: Language Skills Related Task
---
CELTA Course Assignment 4: Lessons from the classroom
There are many of these available online but this assignment is very personal. It's all about you and your  learning.
These assignments are helpful for an idea of what to expect, but not more than that.
Again from Academia.edu, you can download a version of CELTA course assignment 4 by signing in for free. You can also click on the image below to view it.
---
CELTA Course Assignments: Any more questions?!
So, I think I have covered all the main points above.
If you need extra help with your CELTA course, check out the CELTA Course Student Notebook and Diary by CELTA Helper over on Amazon.
This handy notebook is designed with ready-made templates to make your CELTA course that much easier, giving you space to record all your key notes without you having think about how to organise or record your notes – just fill in the templates for things like observed lessons, planning, reflective diary (especially helpful for the final assignment) and more. I designed it to help CELTA course students get through the course – perhaps it can help you, too.
---