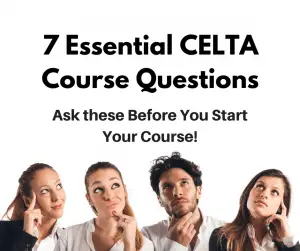 Before starting, we all have a lot of CELTA course questions we want answered. The problem is, however, that asking someone all of them might take a very long time!
Added to this is the fact that each CELTA centre has slightly different timetables and course structures.
For this reason, I have made the list below to help you focus on the essential CELTA course questions you need to ask about your CELTA centre. These are all things I wish I had known before doing my course!
You can also use the answers to these questions to inform your decision on where is the best CELTA course for you.
[convertkit form=5041912]
1.  CELTA Course Books
Let me ask you first of all: have you bought books to read before the CELTA course? I ask because many people think they have to buy the books, but not everyone does.
For example, can you borrow the main books from your CELTA course centre like a library? This is useful to know because you do not need to read each book cover to cover.
Also, are any of the required CELTA course books included in the price of the CELTA course? I have seen some CELTA centres which include the Scott Thornbury CELTA trainee book in the price, for instance.
The key thing is that you might not need to spend a lot of money on books for your CELTA course if you ask in advance.
2.  Classroom Facilities
Make sure you find out what facilities are available in the classrooms themselves.
For example, when I did my CELTA course, we had whiteboards. This was fine and exactly what I expected.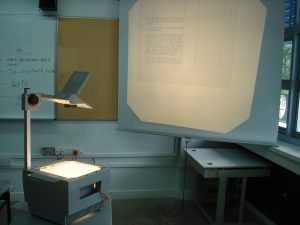 However, we also had to use overhead projectors to show students different pieces of work.
Looking back, it is hard to believe that that was only 10 years ago! Fortunately, today I work in the same institution where I did my CELTA and every room has a whiteboard or blackboard, along with a projector and computer.
The point is that you can teach without any facilities but if you have the technology in the classroom, make sure you are able to use it before you start your course.
The last thing you want to do is to have to learn how to use a new piece of software on a computer (which is unlikely) in the middle of your course.
Ask the CELTA centre what you are expected to use in each classroom (whiteboard, powerpoint, etc.) and then prepare accordingly.
3. CELTA Centre Printing Facilities
Another thing I remember from my days on the course was how stressful it was getting printing done or making copies.
This was because the centre where I did my course was a university. This sounds great but actually it was a hindrance in some ways.
To give an example, we had to go to the other side of the campus to photocopy. When you are seriously time pressured, the last thing you want is to have to do a 20-minute round trip just to prepare one part of your lesson!
Added to the above was the fact that to print was in the library,  a different part of the campus again!
Realistically, it could take close to an hour just to print and photocopy all that we needed for one lesson. That is, of course,  without considering the time taken to make the materials and check them.
4. Internet and WiFi
Again, this is something to consider for CELTA courses today. All those years ago on my course, even if there was WiFi, students didn't have the technology to use it lessons.
Today, by contrast, smartphones are a valuable asset to English language classrooms. It is safe to assume that nearly every student you teach will have a smartphone.
Whether you choose to exploit this fact in your CELTA observed lessons is entirely up to you but just having the option is fantastic.
The real question, however,  is whether your CELTA centre lets students connect to the WiFi or not. I say 'or not' because their network might only be for staff.
So, find out beforehand if you will be able to rely on WiFi in the classrooms. If so, you can try using Kahoot or Spiral (two of my favourites) for quizzes and games, or any number of other websites like Quizlet (put a referral link in here) for spelling tests and games or the Macmillan Sounds Pronunciation app for pronunciation.
Although many students will have access to mobile data, assuming this could cause you problems.  You will also need to be prepared for time taken to get some students connected the WiFi network – allow for this in your lesson plans.
5. Student levels
The thought of teaching high level English in an observation can be quite concerning, especially for CELTA course students with little or no experience.
I had relatively low level students on my CELTA course, with two groups: one was elementary, the other a pre-intermediate group.
For me, this was great as I like low level students as it is very rewarding helping people get started. You can also see progress faster with lower level students.
If you are an experienced teacher, you may prefer higher level students. Either way, ask your CELTA centre what level of students they usually have (if you ask them what level you will have, they might simply 'We don't know'!)
Knowing the level you can expect on the course can help with your CELTA course preparation. It could also be a useful point to help you decide on which CELTA course to take.
6. Numbers of Students in Your CELTA Classes
To clarify, I mean the size of the class you will actually be giving lessons to, not the number of people taking the CELTA along with you.
Where I currently work, we have a rule that there should be a maximum number of 18 students in the class.
When I did my CELTA, the numbers varied wildly because the classes were offered for free. For example, some days we had 5 or 6 students, others we were up to 18.
Finding out an approximate number would be helpful because then you can read up on how to teach large or small groups depending on the response.
I would not say that a small group is easier to teach than a large group, more that both require different skills. Quite recently, we had a group with 3 students. This was awkward because you cannot pair students up to do group work with only 3.
The dynamics and logistics of your classroom change greatly with numbers so preparing for this will help. Although it is not one of the essential CELTA course questions, knowing what group sizes to expect is beneficial.
7. Teaching Practice Groups
I remember clearly how group teaching on my CELTA course was both very daunting and very helpful.
At the start of the course, we were put into teaching practice groups, or TP groups. There were 3 others in mine and we had to jointly teach a lesson.
We also shared the feedback at the end of each session. The CELTA trainer would lead, and others would comment and add to it.
On the whole, it was a fantastic experience and I learnt a lot from it.
The question for you to find out is how many people will be in a TP group. This is because if the number is quite high, you might find you receive less feedback and one-to-one time with your trainer than in a smaller group.
I have heard of large CELTA course groups with very few tutors. Again, this could help you to decide on which CELTA course to take.
Bonus: You could also ask whether you will have one dedicate dedicated tutor, like a personal tutor at university. This would be an added benefit as it would mean you can go to that one person for advice and .
Any more CELTA Course Questions?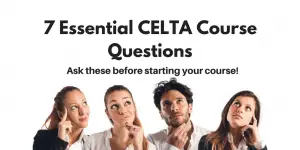 If you have any more CELTA course questions which you would like answered,
leave them in the comments below and I will get back to ASAP!