Often I hear CELTA students complain that they are completely stressed over the amount of time it takes to write a CELTA assignment, and that it comes at the worst time of the course.
For this reason, I have decided to share with you some ways to save time on your CELTA assignments so that you can reduce the stress on your course and not let things get out of control!
So, let's get right into this to help you speed up your CELTA assignments and find more time for your precious teaching and learning!
---
1. Use voice typing
Voice typing is available through many apps on smartphones and actually on google.com.
You can also use this in Google translate (but ignore the translation!) and you just hit the record button and speak your words.
Most smartphones now also have this functionality, which is something you can activate by pressing the microphone icon on your smartphone's keyboard. You can also activate it using phrases like 'OK, Google' on Android or 'Siri' on Apple devices (points that I am sure you already know!).
Now, I've timed this and for me personally, it is three times or four times faster than my typing speed. I don't think I'm a slow typer, I'm actually quite a fast typer so I'd say it's definitely faster.
It does require, however, a little bit of checking after that. You will also need to speak your punctuation because it does not produce this on the page.
So, [when voice typing] you would have to say "comma full stop new line" etc. [for the punctuation to show]! It feels a bit weird but it's still faster than typing it. It's definitely worth a look.
Below, you can see how to do this on Google Docs, my personal choice for voice typing (and it works on smartphones, too!). Simply click 'Tools' then 'Voice Typing'.
---
2. Take notes in advance from CELTA course books.
Now, most of you are probably reading CELTA course books, things like Jim Scrivener, Teaching English and maybe Raymond Murphy English Grammar in Use ( my top two!).
But when you're reading about methodology or ways of teaching specific points, take notes on either a Google doc or a Word document somewhere where you can come back to later.
Record all of the key points you found on a document. Don't just read or flick through the books and leave them never to return – use this to save time for your assignments later!
And also, I wouldn't recommend taking notes on paper because it is much harder to find later on!
If you keep these notes on a Word document, it's easy to add references there and copy and paste the reference in so that can save you time later on as well (I will talk about this in another point!).
---
3. Check the marking criteria for your CELTA centre
Some CELTA centres put this up online. Here is a link to a CELTA centre's marking criteria – it's very helpful because you know exactly what the markers want.
However, if your CELTA centre has not done this you can request it by email.
If you ask and they don't have one, you will still look like a positive and proactive student!
They should send it to you and you will have something further to prepare from in advance of starting the course. If not, use the link above instead as 99% of these points will be the same.
---
[convertkit form=5012078]
---
4. Prepare Formatting on your Documents in Advance
Now the formatting is a little bit tricky, perhaps, but if you just set this up in advance, it is another way sure way to save time.
Create a Word document according to what your tutors say, and this might also come from the marking criteria.
It's one less thing to worry about instead of stressing about using page breaks and double spacing when you're doing the CELTA course. You can just have this template ready to go before starting the course.
This is something I've been doing for my Masters course and it's really helped because I know I've just goWhent the template ready to start typing on.
I've got my template document and it's all ready to go – I then just need to do the work!
Formatting points to look out for are whether you need a table of contents, a cover page and reference list – check!
---
5. Use Google Books.
Google Books is a free service but it doesn't have all of the books you will need for your CELTA course. In fact, many of the books aren't available on there but some are. And this is where you need to find the preview.
When you look at the preview it gives you perhaps maybe 30% of a book. It's the maximum allowed within copyright law but you can still get a lot of information from it.
And the nice thing is not only can you search in the book but it also highlights all your keywords throughout the whole book in a very fast way.
So, it's useful to look in here even before getting a book or getting it from the library as well (saves leaving your home to check a book in a library!).
Have a look at Google Books – an excerpt from Swan's Learner English, which is a fantastic book for the 'focus on the learner' assignment, is available as a preview on Google Books here, showing search results for the word 'Arabic' (feel free to change it to whatever you need!
---
6. Use a referencing app or website.
When writing academic references, there's no need for you to write them yourself – there are so many apps and websites that can do this for you!
Citethisforme.com is the main one that I use. It is free but also has a paid version.
You just need to choose the appropriate referencing style for your centre. I imagine it will either be Harvard or APA but it doesn't matter because with these all you need to do to change the style is click a button anyway, so it's very easy.
Another referencing website that I use is Google Scholar. Google Scholar has journal articles and books mainly, not websites.
To get a reference in Google Scholar, hit the quotation marks icon below the search entry, then click the 'Cite' button and it will give you your reference in your chosen format.
And there are lots more referencing tools you can use for free online and as apps on a smartphone. Have a look around and see what's available but don't pay for any. Just use them for free and it will do your references perfectly.
You might need to check the details because they might be for a slightly different edition to what you've got, but otherwise they should work fine.
---
---
7. Read all available examples of CELTA assignments online.
I've noticed in the recent years many more people are posting their CELTA assignments online and this is helpful as a resource for you to learn from. But it's also very useful just to have a look at lots of different people's as there so many out there now it's hard to believe – but don't pay for any!
There are lots available for free on different sites. In fact, I've put some in a CELTA assignments article as well as they are in the public domain.
I wouldn't share mine personally but the students have done it so why not have a look and see what they've done. Be careful with these because very few share what their grades were (!!) so it's hard for you to know which ones have done the best. But, at the very least, it gives you an idea of the structure and the content.
---
CELTA Stress: 5 Ways to Avoid Burnout on Your Course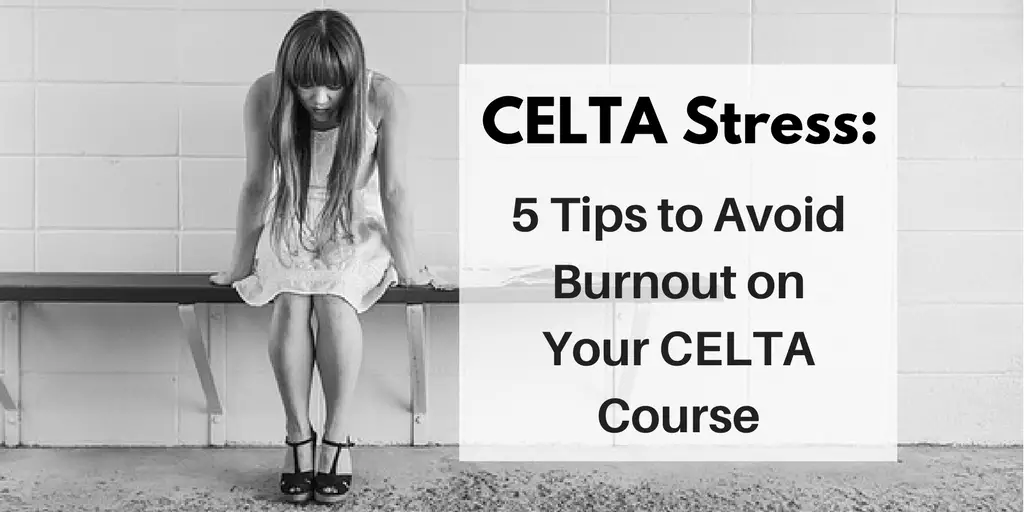 CELTA stress is real and happens to most students on the course in one way or another. It is something I felt and I hear people talk about time and time again. In fact, if I say 'CELTA', 'stress' or 'stressful' are usually the 2 words which come after it in many …
---
8. Keep a diary of the CELTA course [as you go].
This is particularly useful for assignment 4 where you have to reflect on your learning. I know, it sounds like a lot of work to keep a diary, especially when you've got so much going on.
However, I strongly suggest you just keep an audio diary because that way then you don't need to write it up and you can just do it in your smartphone, perhaps, and just save each entry as an audio file.
Most smartphone should have inbuilt audio recording apps which save as MP3/MP4 files directly. If not you can just do it over a Whatsapp message to a friend or whatever.
However you choose to do it, just be sure to record some brief audio notes on your thoughts on the course and what you've learned so far. Because when you come to writing that assignment, it will be really hard for you to remember a lot of it.
So if you do it that way, it should save you a lot of time at the end and you'll also have that extra bit of mental energy because you don't have to do it all from memory.
---
9. Use a phonemic transcription app or website.
Now, one that I recommend is lingorado.com/ipa because you can type in words or sentences and it will transcribe them into IPA or the phonemic transcription for you. It's very useful.
You can also use things like the Cambridge Dictionary which is free and that has IPA in there which you can copy and paste as well but it's only one word at a time doing it that way.
However there's no need for you to type it all up. Might be an idea to have the whole alphabet in a word document before you start as well so you can just copy and paste from it. But you don't need to write all of these from scratch you can get them from dictionaries and online places anyway so just copy and paste them.
Save your time as if trying to stress about them and find the symbols in Microsoft Word.
---
10. Ask a friend to proofread [your assignment] for you.
I say this because I've worked freelance as a proofreader online before. And it's very hard for anyone to find errors in their own work because sometimes we end up looking at the same document too many times and we don't see the problems.
Often these areas might not be grammar or language, it might be clarity of ideas or structure.
Having another person to look at it is incredibly helpful because they have a fresh pair of eyes and they will spot things that you cannot, no matter how many times you look at it.
So, what you could do is set up a swap service with someone else on your course. Someone you trust or perhaps someone you know who's done the CELTA course before.
Simply and ask them just to glance at it, not to give you detailed feedback because people might say 'no' if it sounds like a lot of work.
Request that they 'just have a look to see how it reads' and tell you whether it flows well. Then you can go make those changes instead of trying to find them all yourself!
You could obviously do the same for them in exchange.
PS You may also like to get your assignments or application checked by Scribendi – an online proofreading service (affiliate link) I used to work for that provides high-quality work.
---
Summary: 10 Ways to Save Time on Your CELTA Assignments
So there you go – there's my 10 ways to save time on your CELTA assignments and focus more on the other parts of the course that you need to do [at the same time]!
So good luck with it and come back if you have any questions.