The CELTA pre-interview task has quite a reputation among students given that it forms a crucial part of the entry onto any CELTA course.
You will have to complete it wherever you take the CELTA so it's best to know exactly what you you will need to do in advance to give yourself the best chance of getting accepted onto your CELTA course.
So, what is the CELTA course pre-interview task? It is a series of exercises to complete during the application process. The task focuses on aspects of language awareness. Your answers to this pre-interview task will then be used for a discussion during your CELTA course interview, the next part of the process.
If you meet the minimum entry requirements for the CELTA course, you will then be sent a copy of the pre-interview task to complete, usually in a week before you have the interview. Obviously this comes after you have chosen the best CELTA course for you!
It is nothing to be afraid of because, if you plan to teach English as a second language, there are usually many basic elements covered in these tasks which you will need to know for the course. If you are looking for tips on how to pass the CELTA course pre-interview task, they are in another post.
---
How many parts are there in the CELTA course pre-interview task?
Usually, there are 3 parts to a CELTA pre-interview task. However, these parts might include several exercises within them.
In the British Council example (link below), this includes: grammar and vocabulary, approaches to teaching and learning and language in context.
Not all pre-lecture tasks will follow this pattern exactly but they will usually cover these topics in some way.
As the British Council's sample pre-interview task says, the objective is:
"to help you start thinking about language from a foreign learner's point of view, and to begin to consider approaches to the classroom".
Remember the above at all times when completing the task. Note the keywords "start thinking about" and "begin to consider" – nobody is expecting you to be an expert at this stage in your CELTA journey!
This last point is something to bear in mind throughout your time on the CELTA course as you will need to get used to learning as you go. You will find that you are very often required to learn and apply things rapidly.
This kind of intensity of learning and application can throw some people off so avoid perfectionism and do your best. With that in mind, you will reduce your stress and keep yourself going throughout your CELTA.
---
Where to find downloadable examples of the CELTA course pre-interview task?
There are actually quite a lot of samples of the CELTA course pre-interview task available online.
Here are some links from trusted sources:
Action English Language Training Centre, which is now part of Centre of English Studies (CES) in Leeds, UK has both a CELTA pre-interview task available to download and answers in a separate file. See below for links:

Example CELTA Pre-interview Task

Example CELTA Pre-interview Task Answers

NB: The above pre-interview task has several questions which do not have answers as they based on personal reflection (i.e. similar to 'Why are you interested in language teaching?') so these do not appear in the answer key
---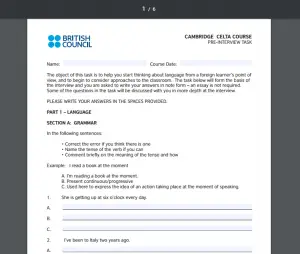 British Council: The British Council is a global authority in terms of ESL/EFL so you can definitely trust the quality of their materials. It is a very clearly laid out PDF file which you can download.
---
International Teaching and Training Centre: This is also another clear example of the CELTA pre-interview task which gives you a good idea of the types of questions available.
---
ISE Hove: This CELTA centre in the south of England have uploaded an editable PDF version of a CELTA pre-interview task. Follow the link in the name and you can have a go at completing it.
---
Holmes Institute*: This CELTA centre provides a version of the pre-interview task. From their document, I particularly liked the advice they provide at the top for how to approach the pre-interview task:
"Don't spend hours on end writing your responses, but do think carefully about your replies. Both how you go about responding and the accuracy of what you produce is significant."
*This document has since been removed so I have had to remove the link, too!*
---
---
What was your experience of the CELTA pre-interview task?
Thinking way back to 2007 (makes me feel old!), I remember being quite nervous about it. This was probably because it wasn't that difficult, therefore I was thinking too much about it.
Remember, the CELTA pre-interview task is not going to include high-level grammar points or questions about teaching. Instead, it is to designed to make you think about what you will need to do on the course.
Even today, I still confuse some tenses and word forms but it does not matter. The main thing is that I respond to students, prepare well for lessons and help them to learn.
Try to keep this in mind when you are completing the pre-interview task for your CELTA course.
The main point is that you are aware of the learners, have thought about grammar and are willing to learn and work.

With this in mind, you can't go far wrong!
---
Useful Resources to prepare for the CELTA Pre-interview Task
And finally:
If you need extra help with your CELTA course, check out the CELTA Course Student Notebook and Diary by CELTA Helper over on Amazon.
This handy notebook is designed with ready-made templates to make your CELTA course that much easier, giving you space to record all your key notes without you having think about how to organise or record your notes – just fill in the templates for things like observed lessons, planning, reflective diary (especially helpful for the final assignment) and more. I designed it to help CELTA course students get through the course – perhaps it can help you, too.
PS You may also like to get your assignments or application checked by Scribendi – an online proofreading service (affiliate link) I used to work for that provides high-quality work.