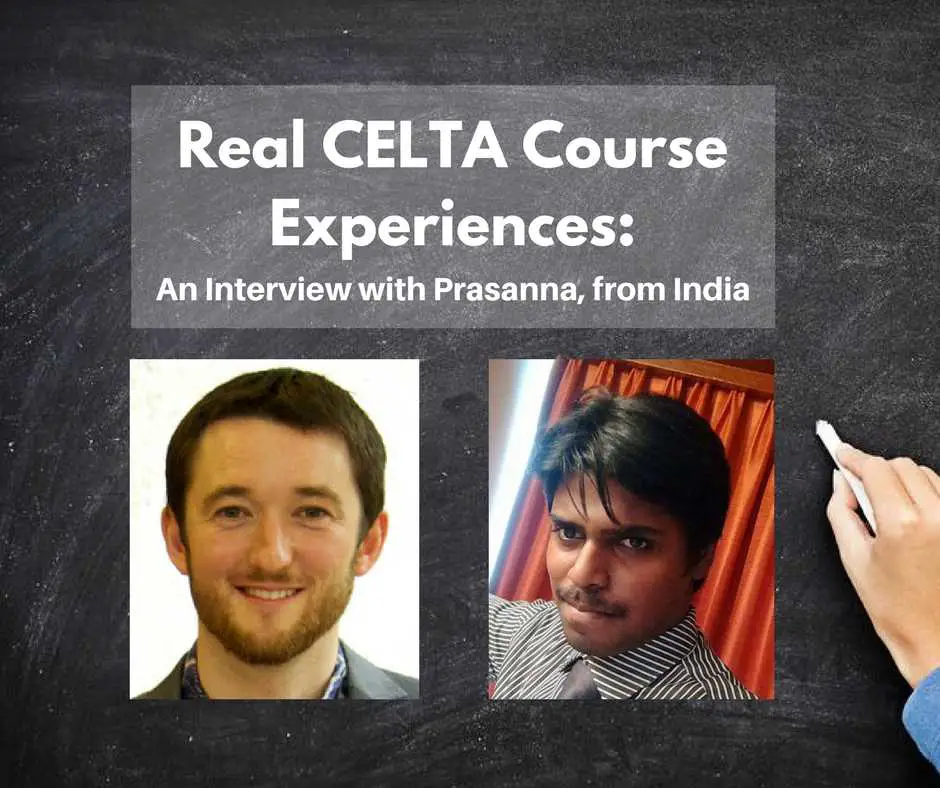 Many people ask me about my CELTA course experience, which was a very positive one but it was a long time ago (2007!).
With this in mind, I asked Prasanna from India about his CELTA course experience as a non-native speaker who has just finished the course.
Here's what he had to say:
Steve: Hi Prasanna, how has everything been?
Prasanna: So it's been 30 days and I completed my CELTA course the day before yesterday. I started on June 19th and had my last teaching practice on July 12th. I had 9 teaching practice sessions. The last one was vocabulary, which I was asking you about beforehand, and it went very successfully.
Steve: So how does it feel to have completed your CELTA course?
Prasanna: It's an amazing feeling. Actually, the very first day when we reached the centre, the trainers assured us that there were only 6 candidates and it was not a competition. Everybody on my CELTA course felt like a friend from the beginning. Everybody was able to help each other and it was very supportive. We also had two trainers.
I actually went to do my CELTA course in the north, far from my home. I travelled to the area of my CELTA centre shortly before starting as I had managed to book my accommodation a week before I arrived in the area.
I took 30 days leave in one go to take the course; I am a banker so I have around 40 days leave per year and I used that.
[convertkit form=5012078]
Steve: So you're a banker by profession – what was your main motivation for taking the course?
Prasanna: Actually, I wanted to become a corporate trainer. I work in corporate banking and we deal with financing, import and exports so we have to do process training and product training. This was not particularly clear for me so I took the CELTA course to learn new techniques to deliver the training.
I plan to go on to become a corporate trainer and am looking to take a corporate training course. My CELTA tutors recommended me to take an extra course because, although I could get into the corporate training field with a CELTA course, there won't be a lot of opportunities.
I am looking to transition into a different role in the future.
Steve: Becoming a corporate trainer sounds like a good niche to get into after doing the CELTA course
Prasanna: As a teacher, I need to go out of the country. I will be getting married soon and am planning to stay in India for 2 years and then will be looking for jobs in another country.
I believe the course I will do is called a Business English Certificate (BEC) but I am still researching it.
I would be comfortable with a general English job, also, as I feel comfortable with this type of teaching. However, in India, I think the profile of a corporate trainer is preferable for me as the salary for a general English teacher will be lower than my current job as a banker.
Steve: So, before doing the CELTA course, you had no formal teaching experience. How was that?
Prasanna: That's right, but actually I have lots of experience presenting to large audiences through my job, explaining products and services in detail,  so I had some transferrable skills.
But teaching on the CELTA course was something new. There is a stage for every part, and lesson plans; I found it very systematic, actually.
Steve: And how was the experience of teaching your first observed teaching practice with the trainers at the back of the room?
Prasanna: Well, at first I was a little nervous. The first two lessons were only 20 minutes each. My confidence levels grew as the course progressed. By the end of the 9th teaching practice (TP), it felt awesome as I was much more confident during TP.
Steve: So what was the hardest part of the CELTA course for you?
Prasanna: Teaching the third conditional. It went well but the structure for that is very long.
And I had to teach some of it using the context given to me in the lesson so it was hard to start but it went well.
Steve: Did you develop your own system for the teaching practice parts of your CELTA?
Prasanna: We had to submit the lesson plan well in advance of the TP session.
I always followed my lesson plans, and wrote everything on there. I wrote all my CCQs on my lesson plans and followed them strictly. I also received positive feedback on my lesson plans.
Steve: Is there anything that stands out for you about your CELTA course?
Prasanna: Near the end of the course, I was the first student to finish the last teaching practice.
Until that moment, my mind had always been thinking immediately after finishing 'OK, so what's my next lesson going to be?', or thinking about the assignments and all the other work we had to do.
At that point, however, I thought 'This course should have been for another 30 days!'. I actually wanted another month for the CELTA course!
Another thing was that all of the students on the course with me, we bonded very strongly. There was one man who travelled all the way from Sudan to India to take the CELTA course! Now, I will miss all my friends and tutors from the course. These are the memories that will stay with me forever.
I think for the whole 30 days of the course, all my dreams were about lesson plans!
Steve: I think you must be one of the few people who wanted an extra month on the CELTA course! Well, thank you for your time and good luck in future as a CELTA graduate.
Prasanna: Thank you, too, it was great talking to you. Bye!
END
Now for your CELTA course experience questions: is there anything you would like to know about the course?
If so, leave a comment below with your main question about the CELTA course experience as a whole and I'll get back to you!
Talk soon,
Steve